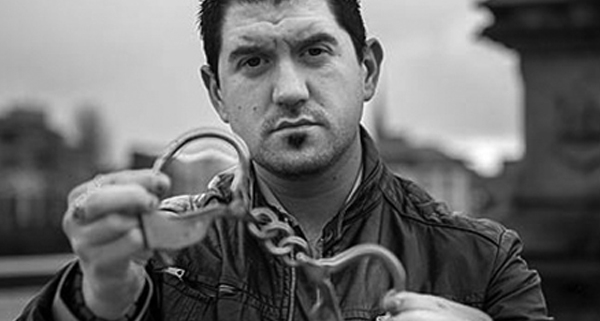 AN ESCAPE artist and magician has bagged a "priceless" New Year gift after completing an escape in honour of his hero Harry Houdini. Card trickster and performer Steve Spade got his quick hands on the set of handcuffs, which are over 100 years old and were originally used by the greatest escape artist ever, after winning them in a bet with a US film crew. The Limerick magician was interviewed for a television documentary on Houdini, for the Discovery Channel, when the crew challenged him to complete Houdini's famous "100-foot of rope escape challenge" in 60 seconds. Spade (27), was told he could have the set of handcuffs, which the TV crew had in their possession, if he managed to escape in time.
Just when it looked like he would fail, Spade managed to free himself, much to the surprise of the crew, who then handed over the handcuffs. "The handcuffs were issued in Paris in 1906 and they are signed by Houdini's brother Theo Hardeen. I said the cuffs were priceless  and to the right bidder you might get millions. I said I'd pay €10,000 for them when the crew asked me to appraise them," Spade said.
"When they put the challenge up to me, I suddenly thought, 'this documentary will be seen in 98 countries worldwide', so I was under pressure to get it right. "Forty seconds into the escape and I wasn't getting out of it. I started to panic. Then suddenly I flicked a ninja-type kick and I got out.  The crew's faces dropped and I beat my own record for the escape too. It dawned on them that they'd lost the cuffs. They were slightly  annoyed I think," Spade added. According to Spade, the crew purchased the handcuffs at an auction in America, complete with all the necessary paperwork.
Spade is currently in talks with MTV about a show and is also rehearsing to emulate more Houdini escape acts.
– David Raleigh
Irish Independent
https://www.stevespademagic.com/wp-content/uploads/2013/09/handcuffs.jpg
400
600
bourke.darragh
http://stevespademagic.com/newsite/wp-content/uploads/2019/04/RGB-Black-228x300.png
bourke.darragh
2013-09-18 12:49:57
2013-09-18 12:49:57
Steve gets new Handcuffs!